Nimmadhi
January 13, 2020
Tamil Way Pongal Celebrations
Tamil Way Pongal Celebrations
PONGAL is a joyous celebration to express gratitude for a bountiful harvest towards the sun god. Lord Indra too is honoured for the copious rain showers received by the farmlands. The cattle, especially cows and bullocks are worshipped and for their unconditional contribution.
Pongal is a 4 day long festival that is celebrated with joy and prosperity throughout south India, especially Tamil nadu.
House Cleaning:
On this day people clean the house and celebrate the new beginnings. Houses are cleaned and decorated with decorative paintings on wall, patios and decorating mango leaves with front yard, etc
Home decoration: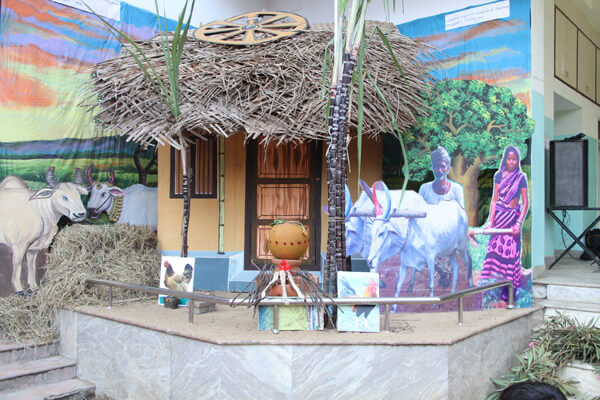 On the day of Pongal, Prayer room and open area is decorated with flowers. Cow, adorned pots are also decorated with many fowers.it signifies the celebrate of harvest festival and to offer thanks to God for His blessings and prosperity. Best wishes Card
Kids and parents can indulge in creating beautiful best wishes cards using paper art. This will be a unique way to wish others on this auspicious day of Pongal.
Make kolam: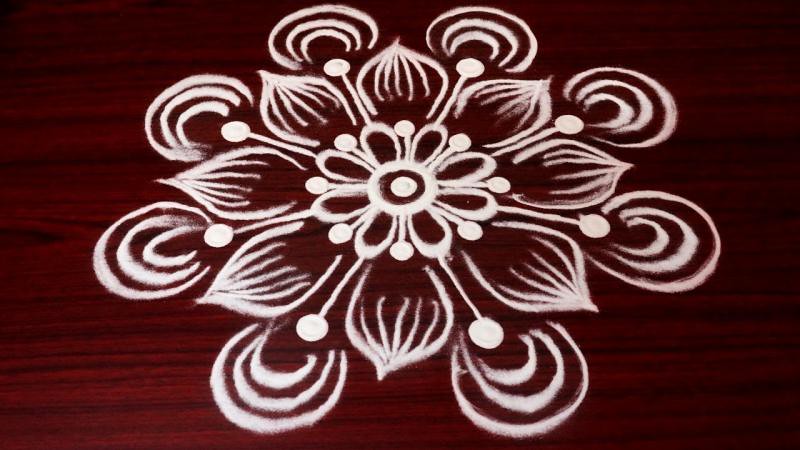 Kolam, which is a decorative artwork done on the floor, at the front yards of houses. It is made with rice flour, yellow pumpkin flowers and various colours. PONGAL symbols like the sun, traditional earthen pots, etc are incorporated in an elegant fashion in these Kolams. Parents can involve the kids to help them out with the decoration of the house. In this way, they will also feel connected and inspired by their artistic self.
Pongal Pot decoration: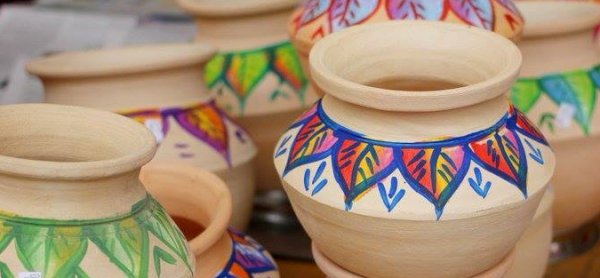 Pot plays a major role in Pongal because peoples cook pongal by using earthen pots. The pots looks colourfull and attractive. Carefully handle the earthen pots is important.
Turmeric and Sugarcane:
Turmeric and Sugarcane are mainly used at the celebration of Pongal festival. The turmeric is a sign of auspiciousness according to Hindus in Tamilnadu. Pongal is one of the traditional festival in Hindu which falls in the month of January and is celebrate for thanks giving to the nature.
At the time of Pongal celebrations tying turmeric plant around the earthen pot with two sticks of sugarcane on the background.
Pongal Recipes:
The most famous Pongal dish is known as Venpongal. The preparation of traditional Pongal dish is the important part of festivities. The dish is made with rice, Ghee and dry fruits. Another dish is known as Sakkarai Pongal which is a sweet variant of the traditional dish and is prepared with Jaggery. The Pongal food is cooked on attractively decorated earthen pots and stone stoves.
Jallikattu: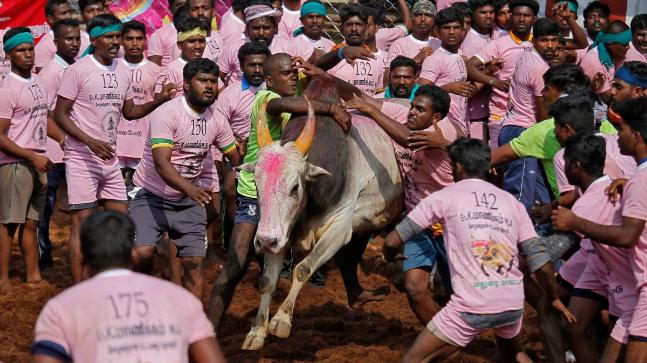 Jallikattu is the pride of Tamil culture and is celebrated in the 10th month which is January as per the Tamil calendar. It is a one-day event which is celebrated on Mattu Pongal, the third day of the famous Pongal festival.
In Tamilnadu Madurai- Alanganallur is famous place for jallikattu. Apart from Madurai, places like Trichy, Pudhukottai, Karaikudi, Sivagangai also conduct this traditional sport in their localities.